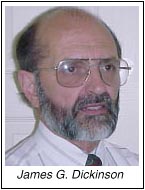 The publisher of Dickinsonís FDA Webview is Ferdic, Incorporated, a 1982-established company founded and continuously led by James G. Dickinson, who first began reporting and analyzing FDA news in 1975 at FDC Reports, Inc., publisher of the Pink Sheet and other trade newsletters. Two years later, while still at FDC Reports, Dickinson came under the notice of other publishers and was soon supplying his analytical reports about FDA and related Washington activities to Drug Topics, Scrip World Pharmaceutical News (UK), Pharmaceutical Technology, Pharmaceutical Executive, the Pharmaceutical Journal (UK), Clinica (UK), Animal Pharm (UK), the Australian Journal of Pharmacy, New Zealand Pharmacy, Drug News & Perspectives (Spain), Medical Device & Diagnostic Industry, and Medical Marketing & Media.
In 1978, Dickinson conceived the idea upon which FDA Webview would later be based, establishing the first daily FDA news service for the pharmaceutical industry in Washington Drugwire. Ahead of its time, this was a daily single-sheet Western Union Mailgram providing between five and eight specialized news capsules each morning, based on Dickinsonís exclusive FDA sources. The service was too expensive, however, and it ceased publication the following year.
Dickinson consolidated his many journalistic activities in 1982 under an independent company he established with his wife, the former Sheila Ferguson (Ferdic is a combination of their two last names), and in 1984 they launched the twice-monthly Dickinsonís FDA, a unique analytical newsletter covering FDA regulation of pharmaceuticals, medical devices, biologics and veterinary medicines. followed by Dickinsonís Pharmacy and Dickinsonís PSAO (two pharmacy-oriented monthlies).
In 1992, the company launched Dickinsonís FDA Inspection, a monthly newsletter focussing on in-depth analysis of FDA enforcement and compliance actions, co-edited with a former FDA prescription drug labeling compliance director, Rudolf Apodaca. In 1993, this publication was merged with Dickinsonís FDA in a new monthly, Dickinsonís FDA Review, with former FDA Denver District director John Scharmann as consulting editor.
Today Ferdic, Inc. has a staff of writers, researchers and office personnel under the direction of Washington Editor David McFarland and operates from owned premises at 165 South 32nd Street, Camp Hill, PA 17011.

Telephone: 1-800-659-6858
Fax: 1-717-731-1427
email: ferdic@ezonline.com
Web site: www.fdaweb.com